Sustainability
Gilead operates in many communities around the world. We believe our impact should be positive, enriching and sustainable. Our goal is to promote efforts that minimize our effect on climate change and lower our consumption of natural resources. We seek to increase renewable energy use and recycling efforts, lessen our contribution to greenhouse gas (GHG) emissions and improve chemistry practices. Sustainability is core to how we are working to build a better world with people, partners and communities around the globe.
To make good on our commitment to sustainability, Gilead has joined the world's leading companies to reduce GHG emissions. Climate change presents a material threat to human health and environments worldwide. Gilead is committed to mitigating our impact by doing our part to improve our environmental practices though conservation and pollution prevention. This includes reaching our target goal to reduce our global Scope 1 and 2 GHG emissions by 25% by 2025, compared to our 2016 emissions.
Sustainability in France
In France, Gilead is committed to improving its recycling and consuming energy responsibly.
Gilead has chosen to establish its French Headquarters in a low-energy consumption building (Certification NF HQE™ Bâtiments Tertiaires d'Exploitation - Très Bon), which operates on 100% renewable electricity.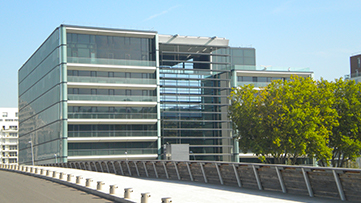 In France, Gilead recycles office supplies, including but not limited to light bulbs, ink cartridges and small electronics, and has removed single-use plastic from the office. In addition, all cleaning is done using low environmental impact products.